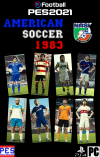 ​
Find all the 1983 season of American soccer with the North American Soccer League containing 12 teams and the American Soccer League, considered as the 2nd American division, containing 6 teams.
The NASL 1983 patch created by Rampillon77 and MagicWaddle already existed on PES 2019 and was imported and to add substitutes in the teams by Voitx9.
This patch is an improvement with the addition of photos of stadiums and coaches and the American Soccer League.
Despite the creation of the NASL/ASL 83 league in order to find the 18 teams, only the ASL is present there ... the NASL is found in Other Latin teams. You will have to add the teams yourself in the right place.
Credits: Squads: Rampillon77, MagicWaddle, Voitx9; Kits: Magic Waddle; import to PES 2021: Voitx9
Link :
here