This is the official sign-up thread for the fourth and final weekly pre-season race. By this time, we will have had three 'official' warm-up races and an interim week where hopefully some racing will have occurred in my absence.
By this point, hopefully we will have a good number of drivers. Specifically, I would hope the following will all be involved:
Myself
IronCity
fick
Appswah
Phatmann
abu97
Sminky
muscularmatt
Makavelian
...and others?
Racing aids will be relaxed, however I would recommend where possible that traction control, the driving line, skid recovery force and active steering are turned off (in that order of priority, for those still getting to grips with the game).
For this challenge, we will be heading back over the American shores and will be buckling up with some American monster cars to boot.
Racing Itinerary
Date:
Sunday 1st April 2012
Time:
20:00 (GMT)
20:00-20:30 -
Q1
(30 minute qualifying/testing session)
20:30-21:30 (approx.) -
R1
(20 lap race, grid decided on qualifying times)
Follow-up race to be decided on the evening.
Track - Indy Road Course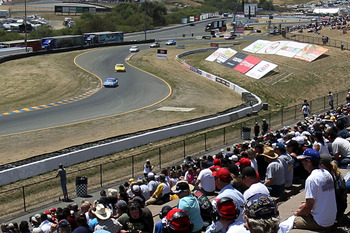 Length:
2.61 miles
Straight length:
0.58 miles
Elevation difference:
11.5 ft
Corners:
13
Entry requirements
Car:
Chevrolet Camaro Z28 '69
Power:
322 BHP
Weight:
1085kg
Drivetrain:
FR
This car is acquired from the New Car Dealership and should then immediately be race-modified. No other parts are permitted to be purchased for this car, except for Racing Hard tyres (or worse).
Tyres:
Racing Hard or worse
As far as racing aids, traction control
will
be allowed, as will the driving line, skid recovery force, mild active steering and the ABS. This is in the hope that those of you struggling to keep control of your car will have a more enjoyable time and keep things more competitive.
Of course, those who wish to play without are encouraged to do so (I know I won't be using any aids).
--
Some American muscle fun on a really good track.
Compared with what we will have raced as a group beforehand, these Camaros are lightning fast.
Sign-up below. All of you.