DOWNLOAD
(FileFront)
DOWNLOAD
(MegaUpload)
DOWNLOAD
(RapidShare)
*Recommended to read the whole post so you know what or not to expect from this patch and to actually know how to install it.
Some solutions to problems from patching are located underneath the Installation Pic-Tutorial Instructions
**************************************
Update 3 - Wednesday 12th March 2008
Hi all, since I don't have time to make an update of this file, I'll post some quick instructions if you would like to take on the updates yourself.
Firstly, here are the January 2008 Transfers:
Prem League:
http://www.skysports.com/football/transfers/0,20367,11660,00.html
and
Championship:
http://www.skysports.com/football/transfers/0,20367,11687,00.html
To transfer a player from one team to the other, you'd simply go to EDIT mode and select EDIT Teams, then select
Register Player
. Select the player you want to transfer from the team he is currently in. Once selected, choose the team you want to transfer him to. If the team he is tranfered to does not exist in the game, simply press square (if you are using PS2 Controller plug-in, or "Y" if you are using a xbox controller) to remove the player from the team.
If you want to find the deleted player in a later time, then you can find him in: OTHERS > UnBelonging
If the players you want does not exist in the game, then you would have to create them yourself, you would have to use the original PES players:
eg. Player K21, Player A11, etc - There should be quite a few left, you can look for them in EDIT Mode, you have to go to
Edit Player
(
NOT
"Create Player"). You now press :Square: (If you are using a PS2 Controller plug-in) to activate the Search Option. On the
Category
scroll down menu, select
Others
. For the Player Name, you type "
Player
", then hit the Seach button, the remaining default PES players would be shown. Select any random player you want to edit.
The stats can be made up entirely from your own knowledge, or preferably you can convert the stats from the game;
Football Manager 08
(or 07) - you would need a tool called Verter which could be found here:
http://rapidshare.com/files/70212840/Verter.zip.html
...this only convert stats for outfield players, for converting Goal-Keepers, use Ortegaz - which can be found here:
http://fmtopes.free.fr/
Alternatively, you can request wan109 or Lucifer to convert the stats for you on this thread:
http://www.pesgaming.com/showthread.php?t=54693
...but make sure that the player you're enquiring about has not been requested yet (use the search option), and be sure to rep the person who converted the stats for you afterwards.
I'm afraid that the appeearance of the players has to be built from your own memory.
You can try looking for the players appearance on this thread:
http://www.pesgaming.com/showthread.php?t=55153
...but their is a fair chance your desired player may not be on the list.
There are other sites that has players' appearance lists, but I don't remember any other links, I'll let you know if I find any.
Hope this bit info helps you.
And if anyone is prepared to try this, please share with us.
Good Luck.
------------------------------------------------------------------------
Update 2 - Saturday 29th December 2007
New Middlesbrough (small) emblem done.
Since it is a very minor update, I would not be zipping and uploading a whole 30MB+ file just for one small badge.
I would instead give a short instruction on how to install this emblem:
Firstly, you would need Mozilla Firefox to view this type of .png file:
Save the image on your harddrive, then open
Game Graphic Studio
and open cv_0.img
After opening cv_0.img (click on no when asked if you want "artificial folders"), then locate the very last file at the bottom (flags_64x64_8093.bin) and click on it, click on OK when prompted, you may need to have numerous attempts to open this file properly.
Once opened, find the (old) Middlesbrough badge and in the middle of the screen (with the Game Graphic Studio logo), right click and click open, then locate the saved middlesbrough emblem. Once the emblem is loaded on GGS, drag and drop it onto the old middlesbrough emblem.
Close GGS and everything should work fine.
------------------------------------------------------------------------
Updates - Friday 14th December 2007
-
(Old links/files deleted)
-Changed names of all Classic Team Players and Master League Players to originals
-Fixed the Wigan and West Ham kits
-Updated emblems, uncluding Classic Teams
I highly recommend those that have downloaded the previous version to update due to the minor errors that was previously made, aswell as improvements in certain departments.
* It is perfectly safe to patch over the previous version.
**************************************
This patch is compiled to make the most out of the Premierhip-Championship in the Master League. The format of the ML which i have taken on is that League A would become England League/Championship, League B would be la liga, Leacue C - Serie A, League D - A mixed European Leage named UEFA Res of Europe (see screenshots).
To rearrange the teams so that they fit to their corresponding leagues, just press rearrange when prompted after you have chosen which league you want to participate in.
you can swap the Leagues B, C, or D around with other possiblities, but you would have to patch it yourself.
This patch is extracted to a singular easy to install file for each of the .img files. Installation Support are further down in this post.
---------------------------------------------------------------------
One of the reasons for uploading this patch is so that i have a source to download all my preferred patches on one file incase my PES2008 corupts.
As well as mixing my own files and edits into this, alot of the stuff is made by other patchers...i have just mixed, matched and compiled, including some of my own work.
Since it's just a massive mixture of lots of patches, i'm not calling it 'my' patch, just a compilation i want to share...so thank you if you enjoy this but alot credit should be shared by the people listed here.
Originally started by robablade & PALACE1, they formed the base of this compilation with their original Championship Patch availible at
evo-web
.
and other credits...
52yfy, AdrianoPSO, biker_jim_uk, cocainekongpow, Dark Nero, Dert, devill_sfc, el_gordito, enders500, FCH, Hello, jacksion1984, Jumberto, mjsmith, MxSoNiC, Paul81118, r0b, Roamer, scotthut, shock3r, Simon Hibsey, The Juice, TIFFOSI, timo the owl, Titch, xinzhitan14, Yoni1, YZWANG, Sucat, r0b, pes-online.
---------------------------------------------------------------------
The 20 Championship teams included in this patch are as follows,
-Barnsley
-Bristol City
-Burnley
-Cardiff City
-Charlton Athletic
-Colchester United
-Coventry City
-Crystal Palace
-Hull City
-Ipswich Town
-Leicester City
-Plymouth Argyle
-Scunthorpe
-Sheffield United
-Sheffield Wednesday
-Southampton
-Stoke City
-Watford
-West Brom
-Wolves
Other features...
-All England League and Championship HD Logos, HD Badges, and Kits
-All player names, stadiums, competitions renamed
-All transfers done
-All other international and domestic leagues and cups' teams and logos have HD Logos
-All Championship players, lineups, stats and appearances done
-Playstation GamePads replace the XBOX360 GamePads up to a certain extent with only the menu interface left as default, Original XBO360 pads are also provided in the 'Others - misc' folder.
-FA Cup replaces D1 Cup in Master League and Carling Cup replaces the D2 Cup
-Championship written over the French ligue 1
-French league moved to Other Leagues C and Lyon and Marseille added in Other League B
-Carling Cup replaces the the Coupe de France
-Everything Unlocked
-All Master League and Classic players renamed
*
Note
- No boots, balls, scoreboards, adboards, or faces are included as i believe the users should make their own choices that fit their tastes.
NOTE -

IF

MY PHOTOBUCKET MONTHLY BANDWIDTH LIMIT HAS BEEN EXCEEDED (25GBs),
VISIT

HERE

FOR SCREENSHOTS
AND


HERE

FOR THE PICTURE-TUTORIAL
(Please note the images are posted back to front but are numbered correctly so view the last image first and first image last)
Screenshot Images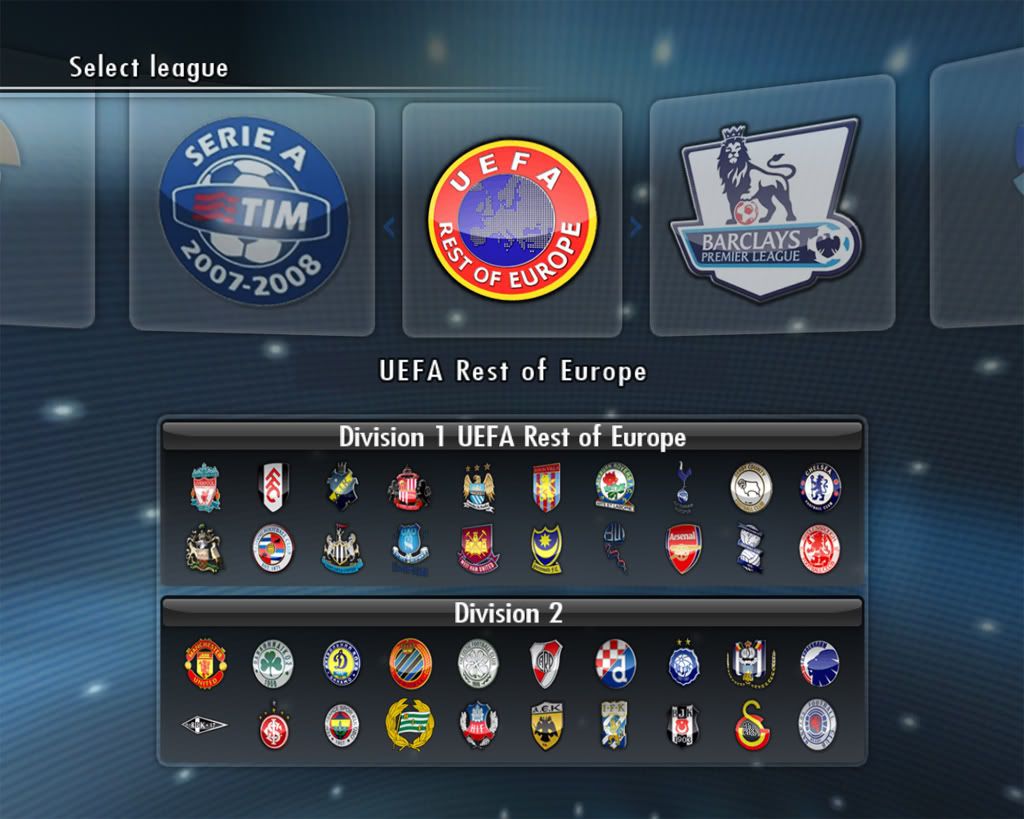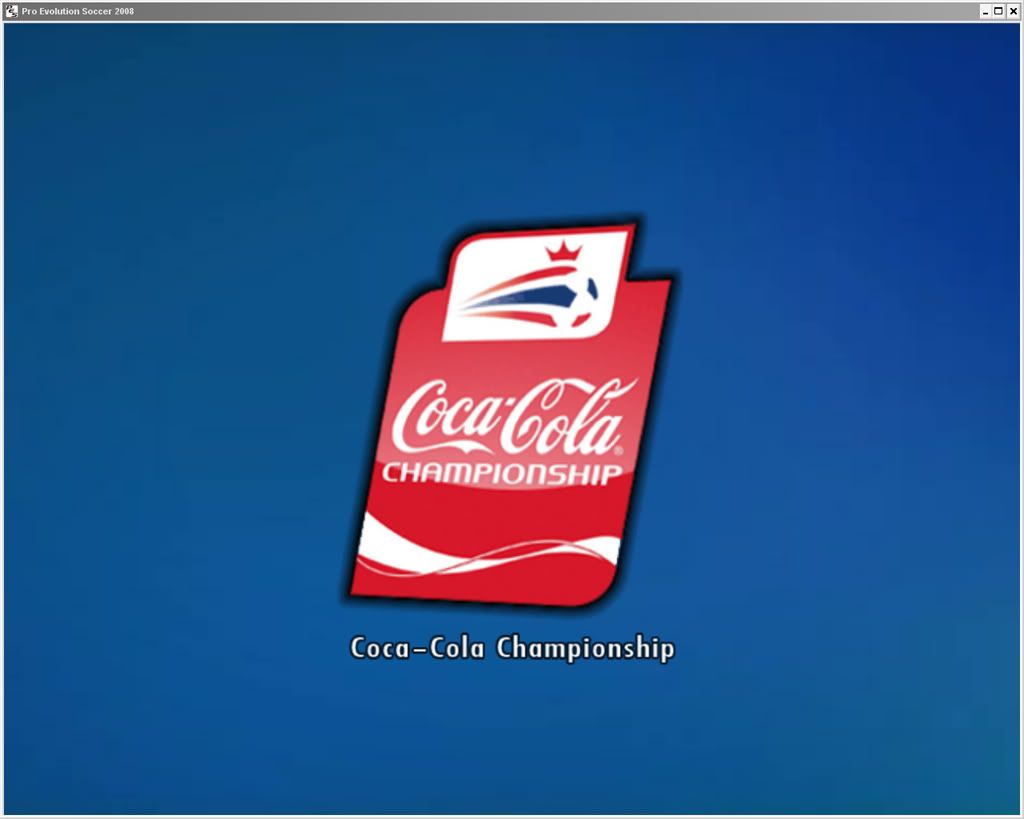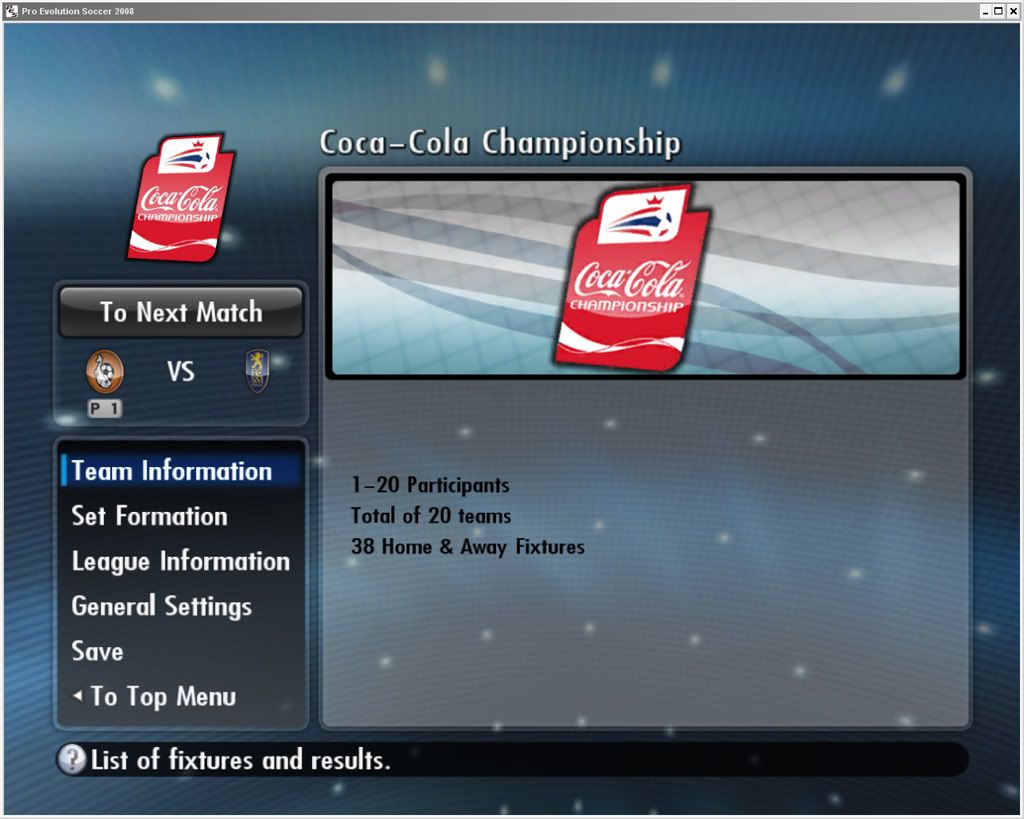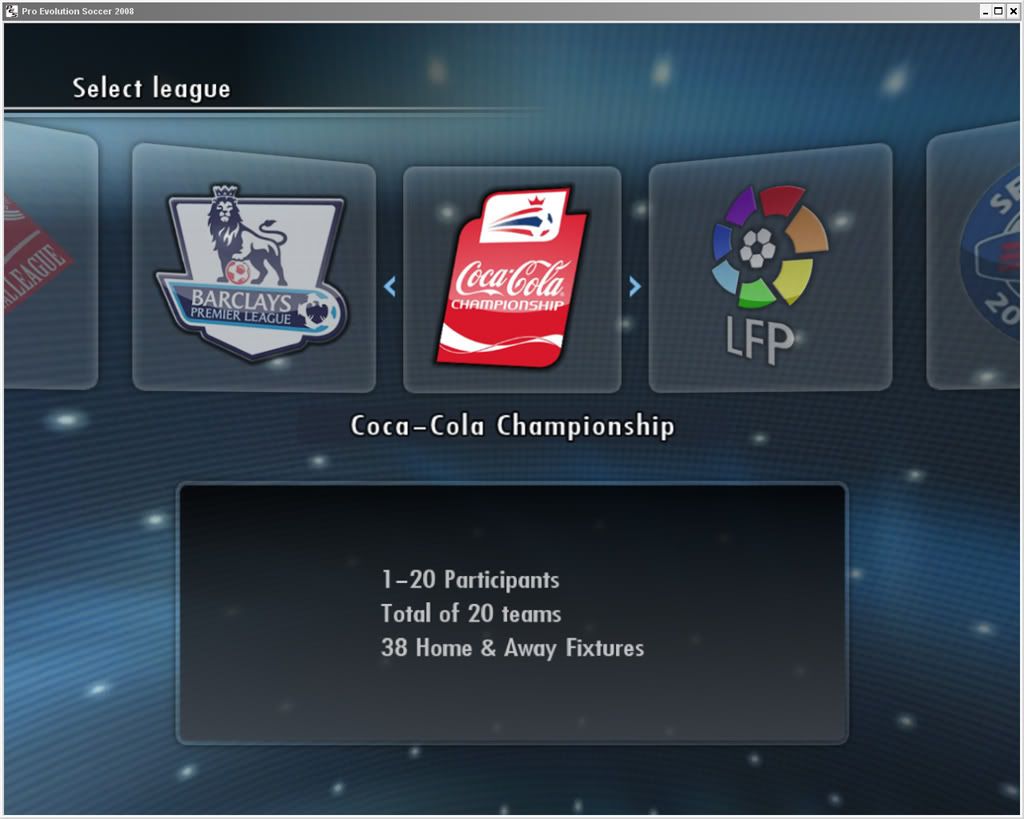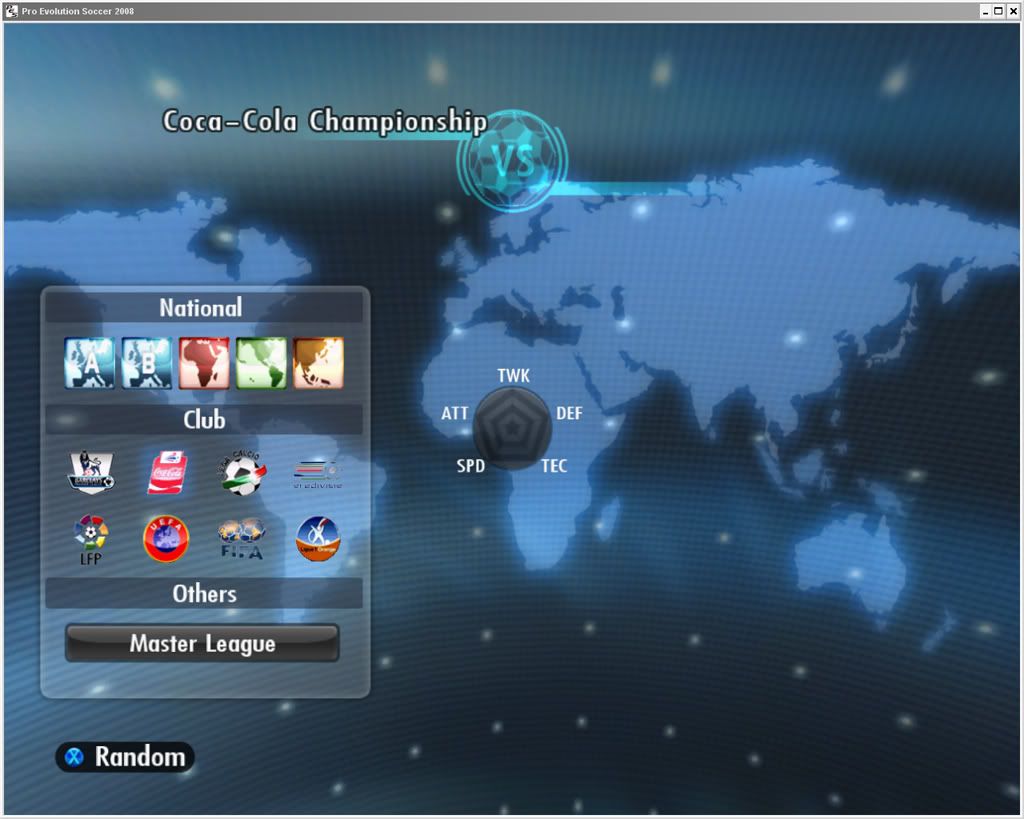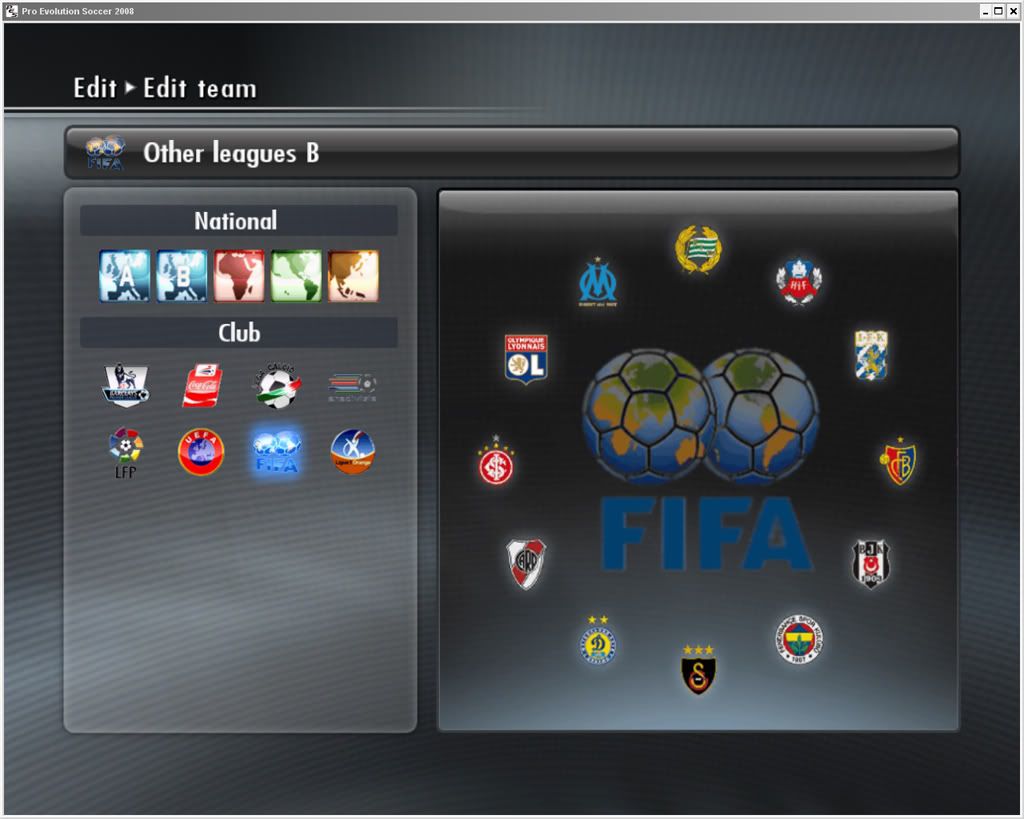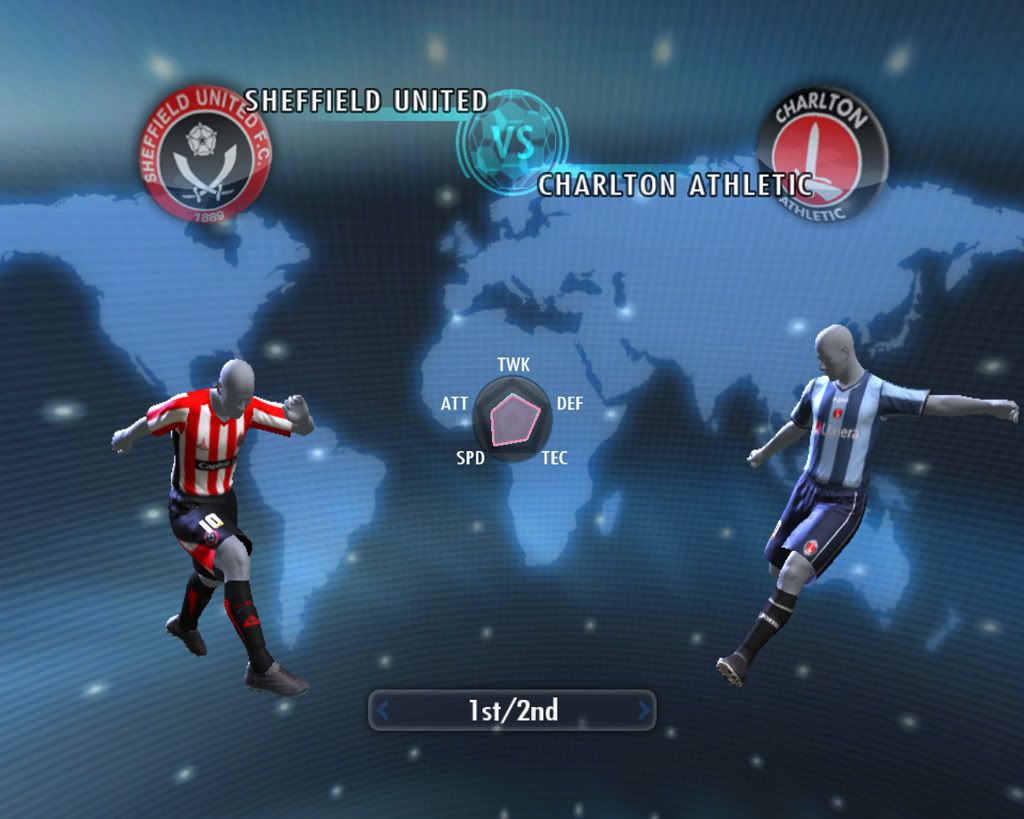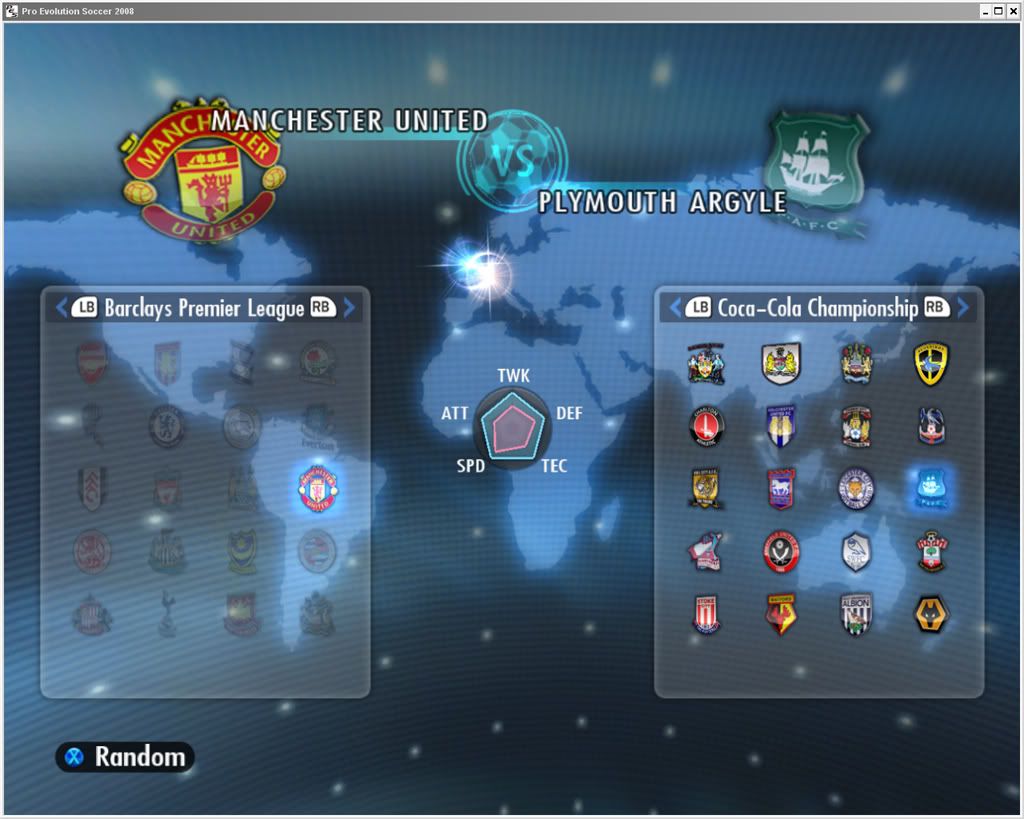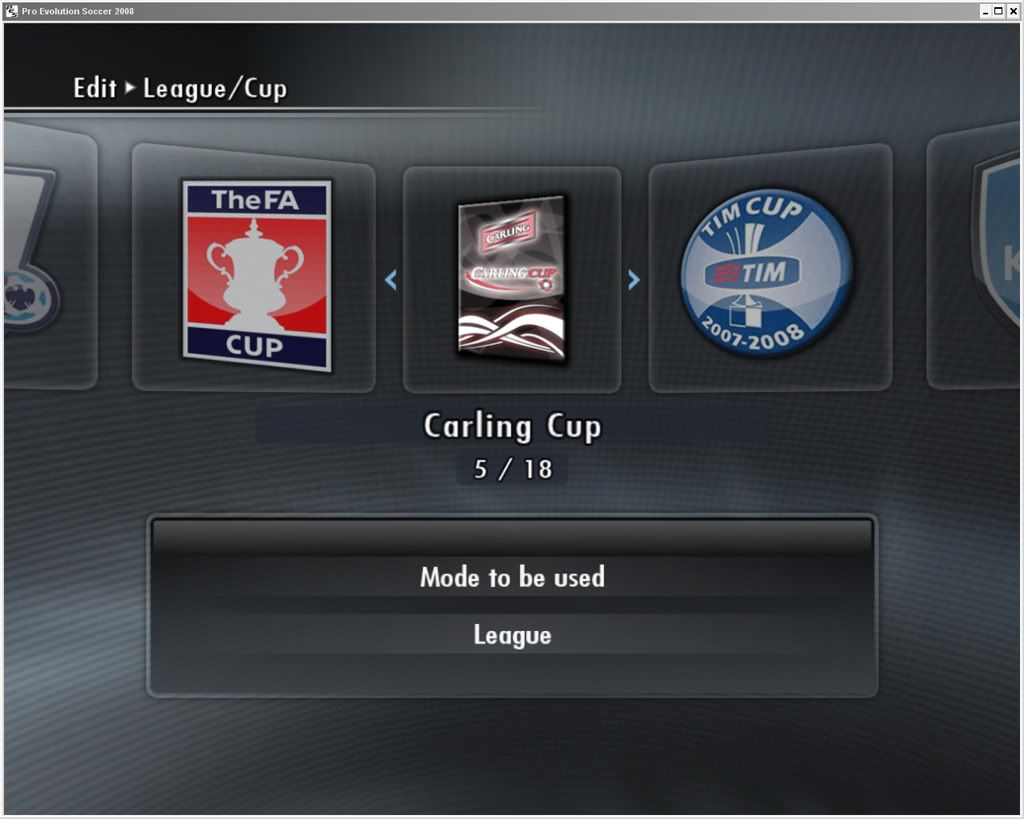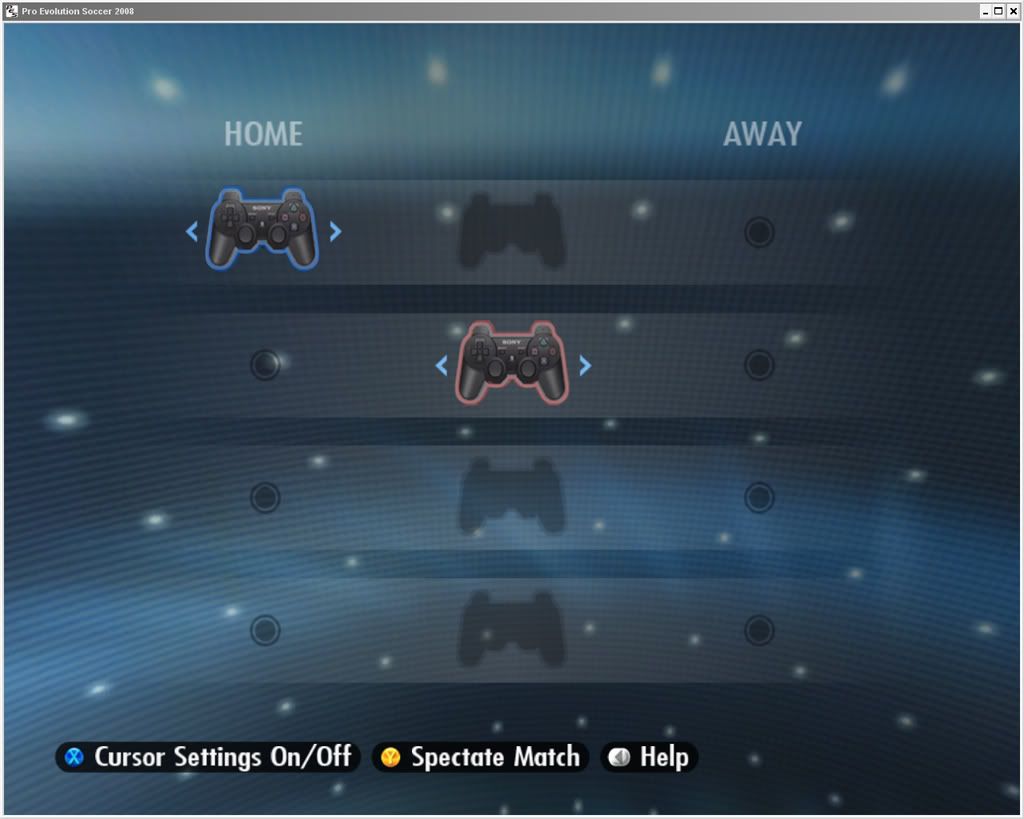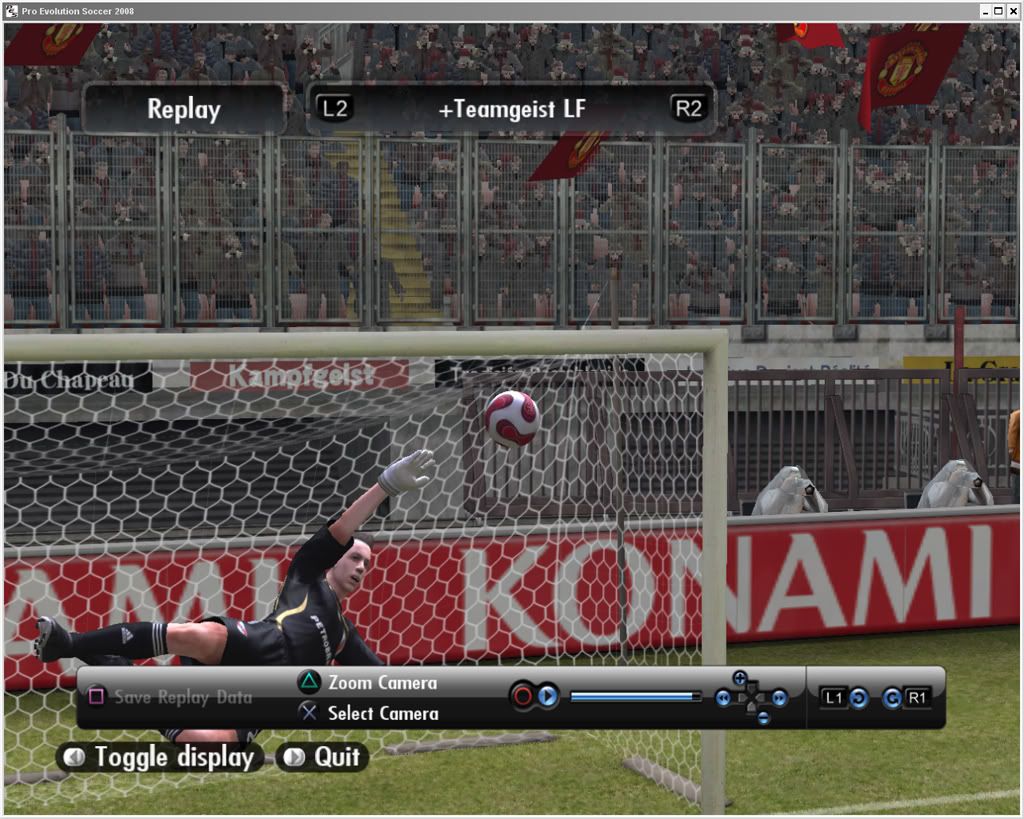 **INSTALATION INSTRUCTIONS**
Please make sure you backup your files before patching!
Firstly, download afs_explorer
HERE
if you don't have a copy yet.
1.Open afs explorer, and click on
File>Import AFS Files
2.When the Open Dialog Box appears, click on 'All Files (*.*)' on the 'Files of type:' drop down menu.
3.Now find your cv_0.img file in your PES2008 directory, once you have found and attempted to load it, it may ask if you would like to rebuild the file, click yes and save it with a different name (eg. cv_0a.img), or save it in another safe location.
4.Once it has loaded, click on Advanced>Import Patch. Now locate the Patch Folder you have just downloaded and go into the 'img Files' folder and load cv_0.afp.
5.AFS would then let you select which files you want to select to patch, click 'select all' a few times as it doesnt seem to check all boxes if you just presss it once. Click 'patch' when you are sure all files are checked.
6.AFS would then begin the unpackaging, and if you are prompted to reserve space for some files, click yes and just like the process in 'step 3', save the file with a different name or in a different location.
7.When the patching is completed, close the program and backup your original cv_0.img in a safe location and place your new edited patched .img file into the original PES2008 directory with it's orginal cv_0.img file name (You may delete the backup once you have tested the new cv_0.img file).
8.Repeat 'Steps 2' to '6' again with 'cv_1.img' and 'rv_e.img'. Once those .img files are complete, open the downloaded patch folder, and from 'Option Files' Folder, drag the files '
PES2008_EDIT01.bin
' and '
PES2008_OPTION01.bin
' into '
My Documents\KONAMI\Pro Evolution Soccer 2008\save
', and you're done.
* 'Others - misc' Folder contains the original XBOX Controllers if you prefer them.
---------------------------------------------------------------------
*Alternate Picture Tutorial*
***
Full view
to see the images properly.
(Sorry for the handwriting. Not very neat on a tablet, can write much neater on paper. But it was still faster than typing in photoshop) :blush:
HERE
is the link for AFS Explorer if you haven't downloaded it yet.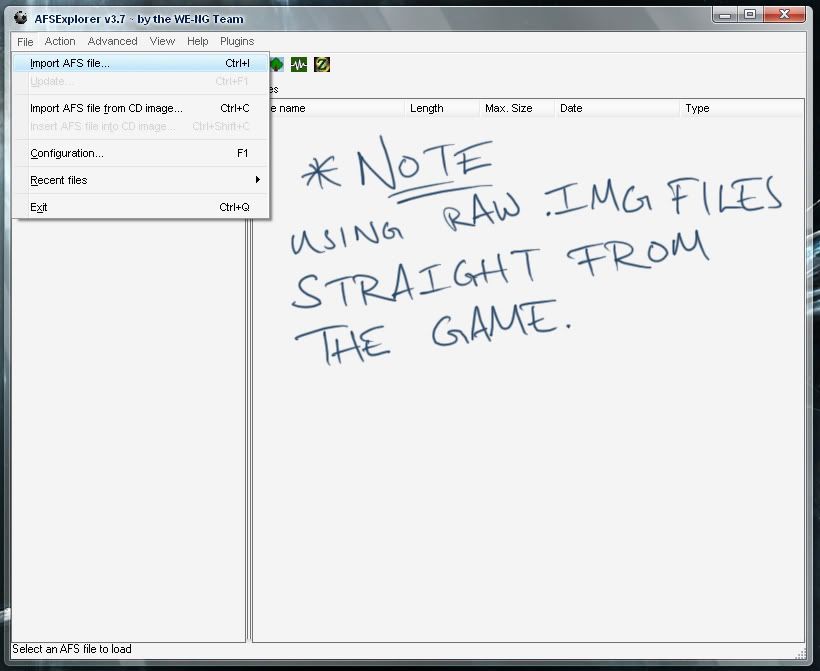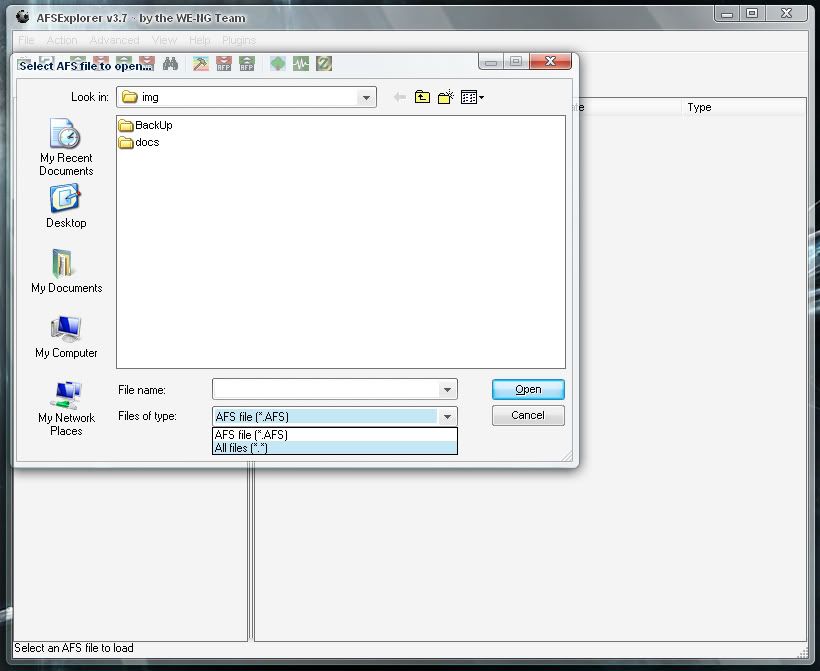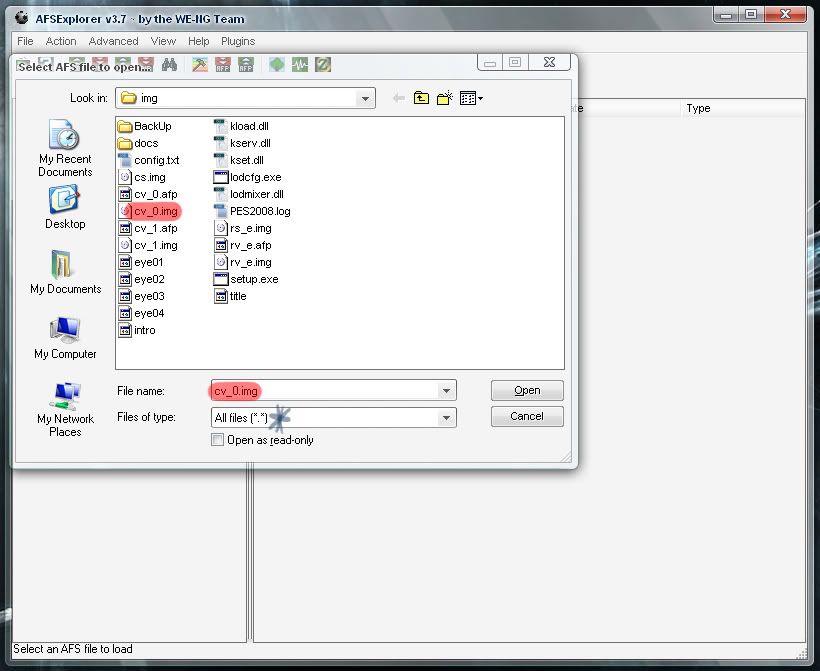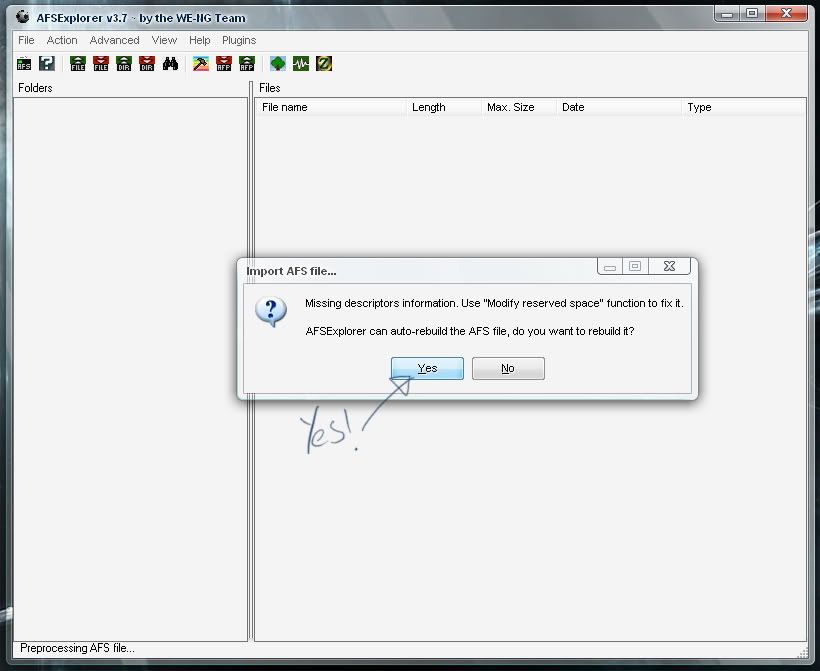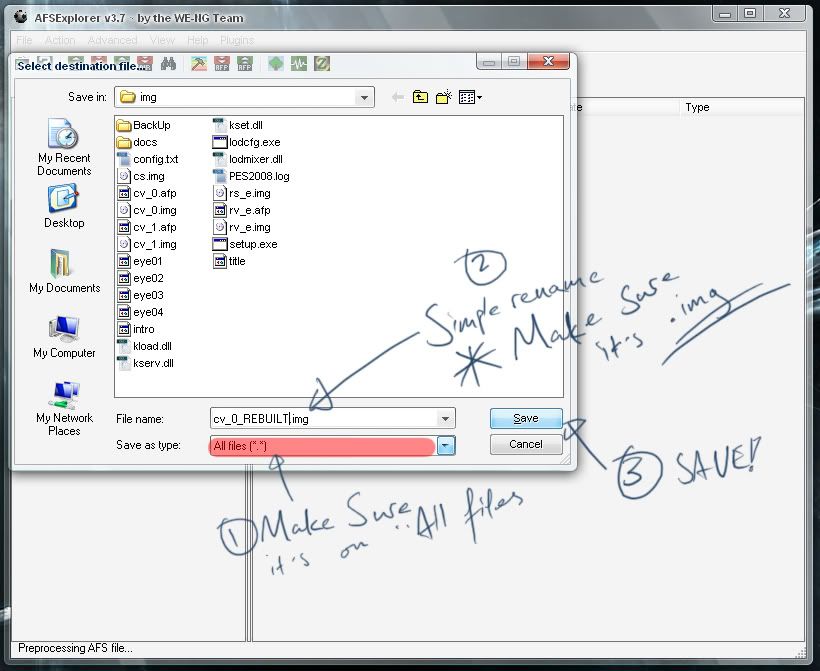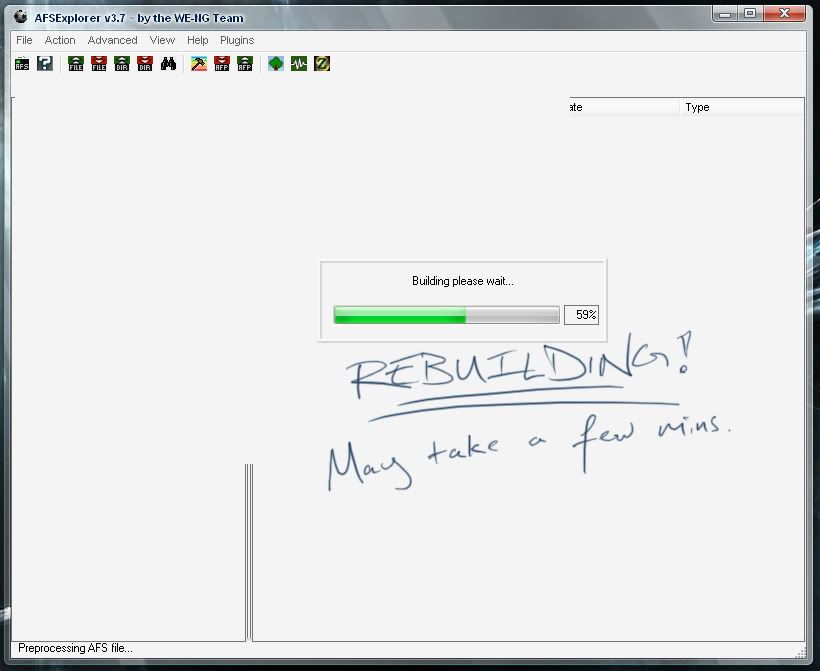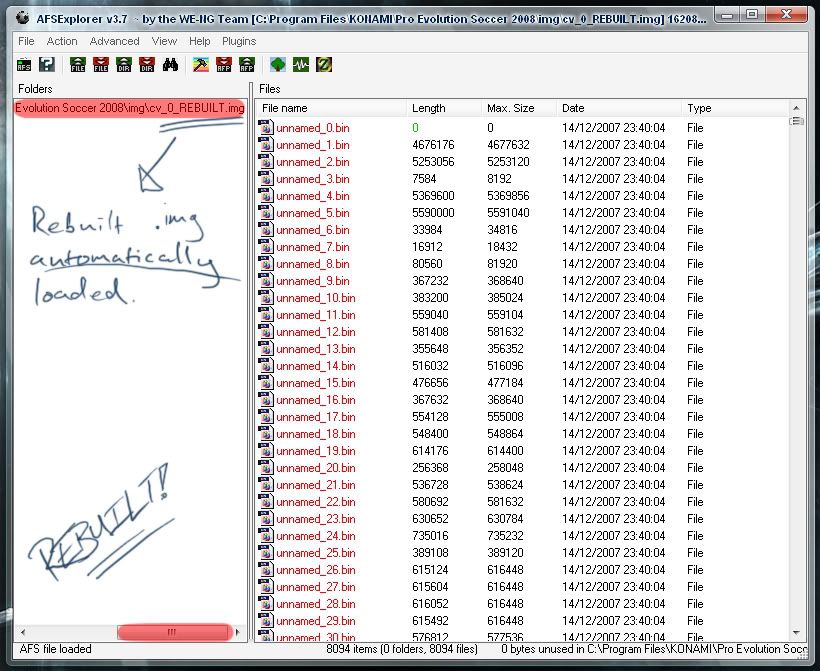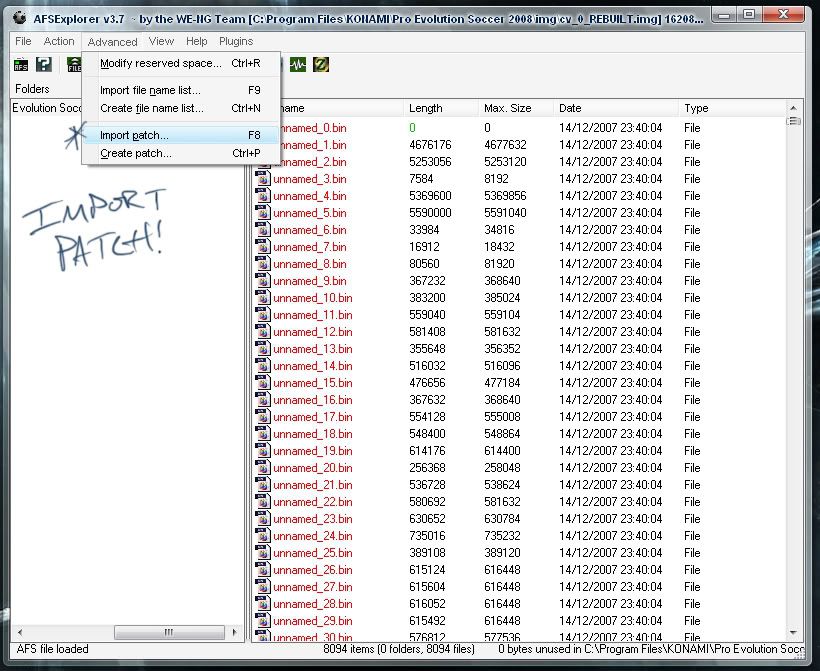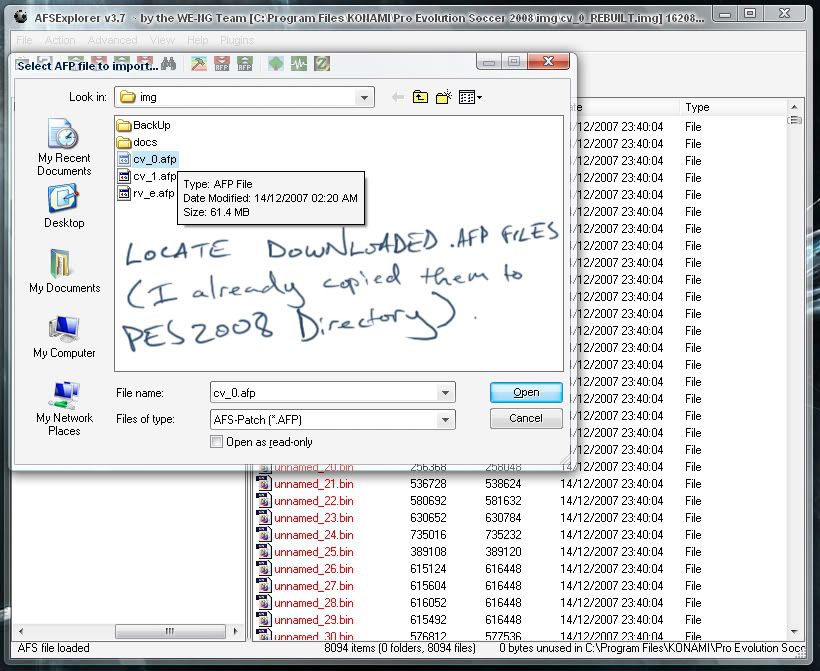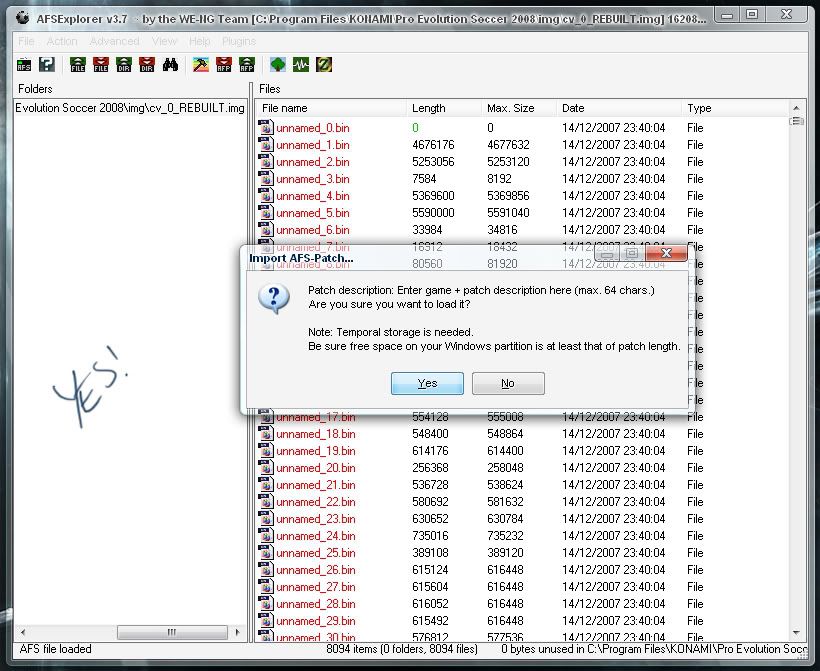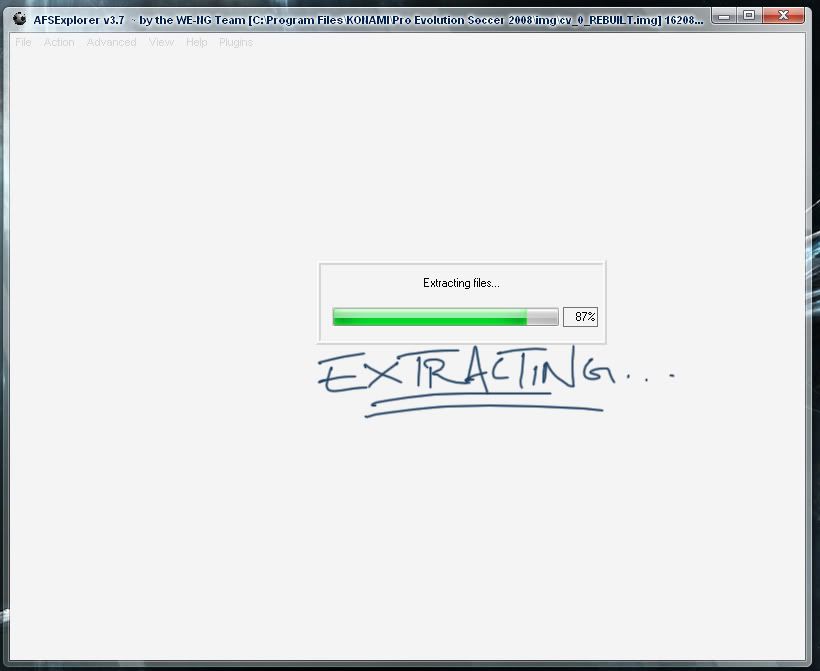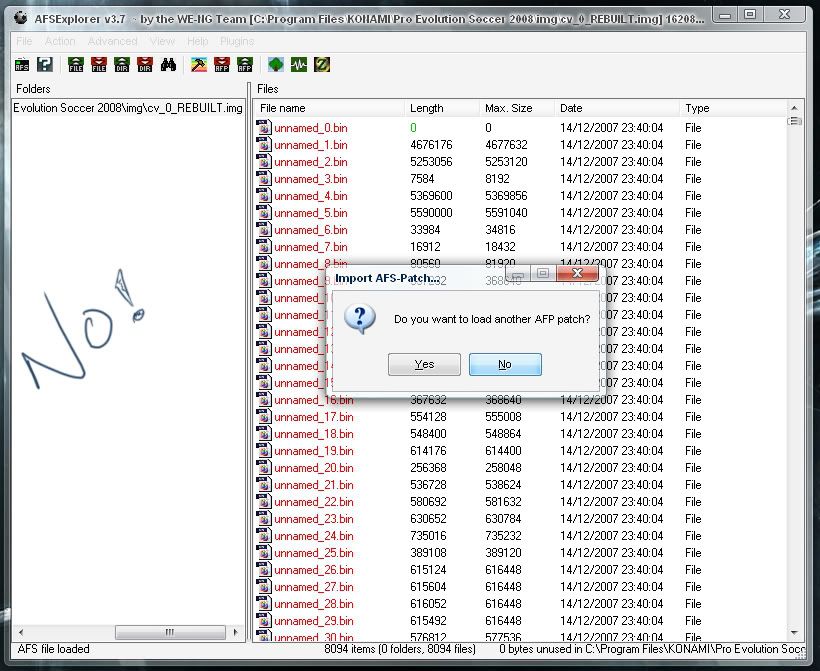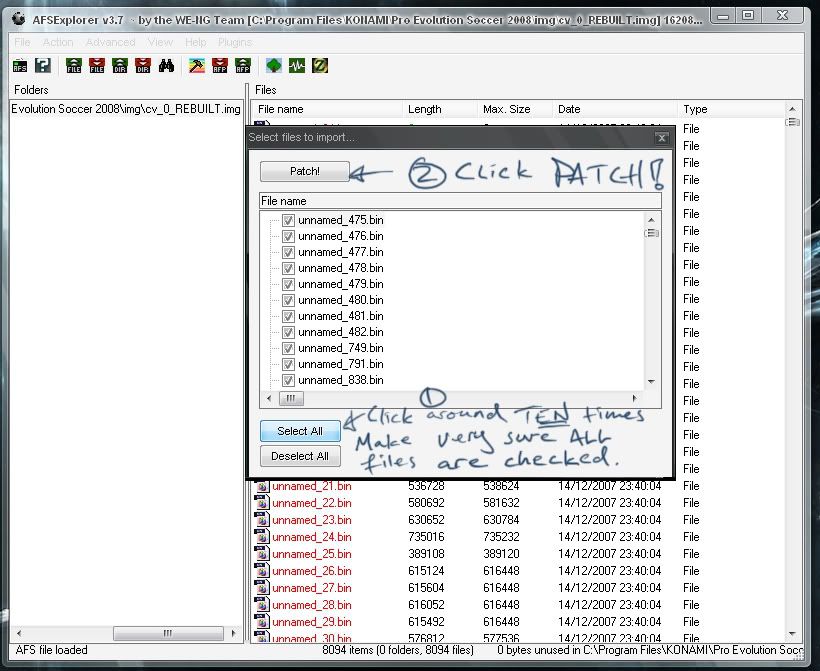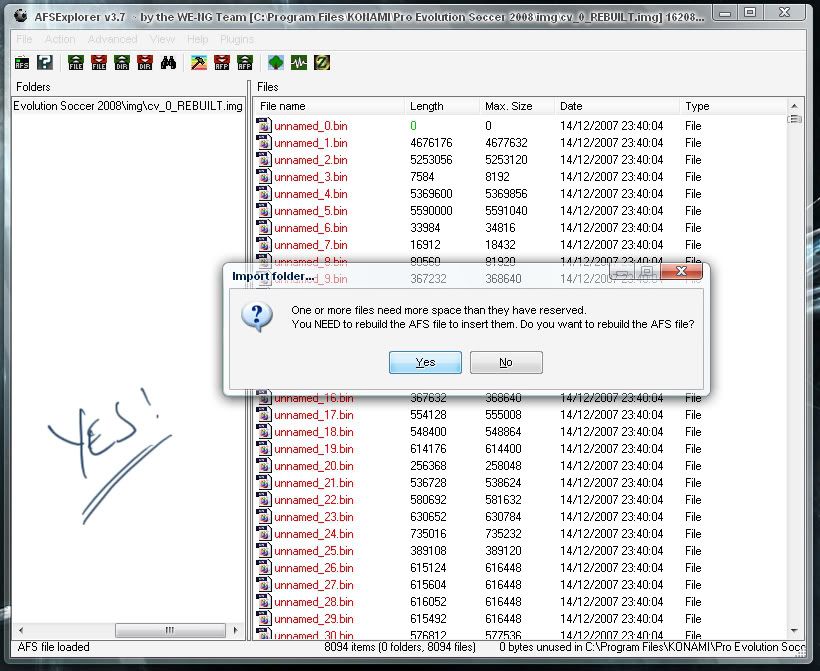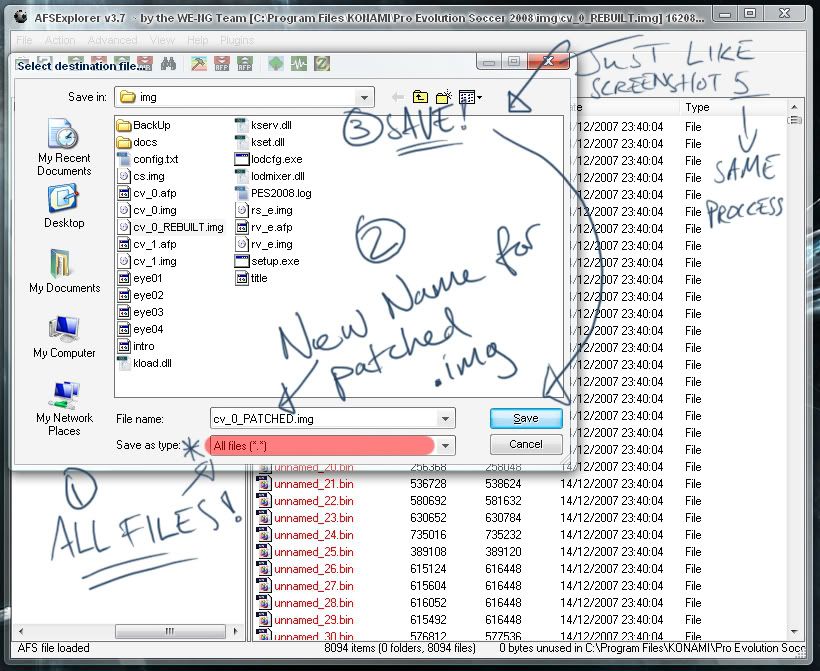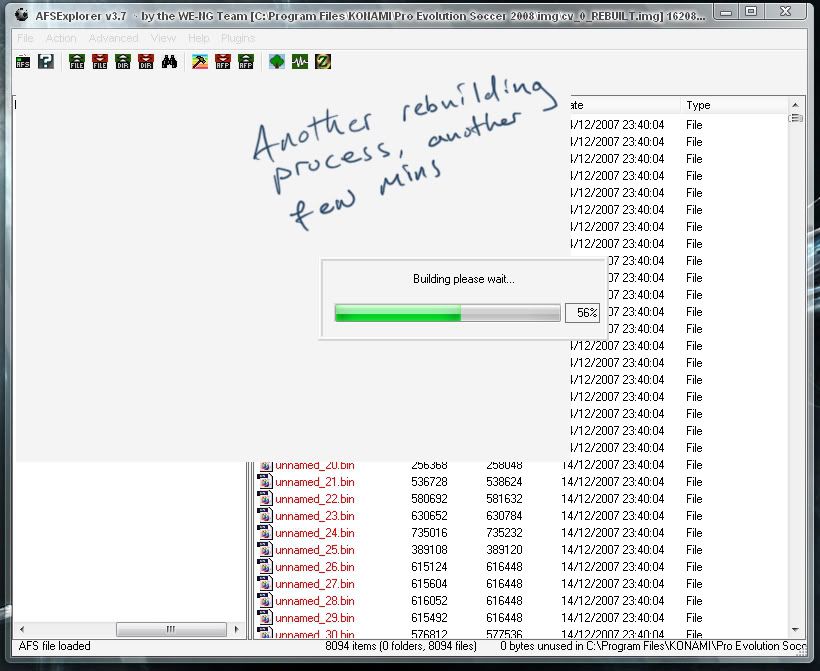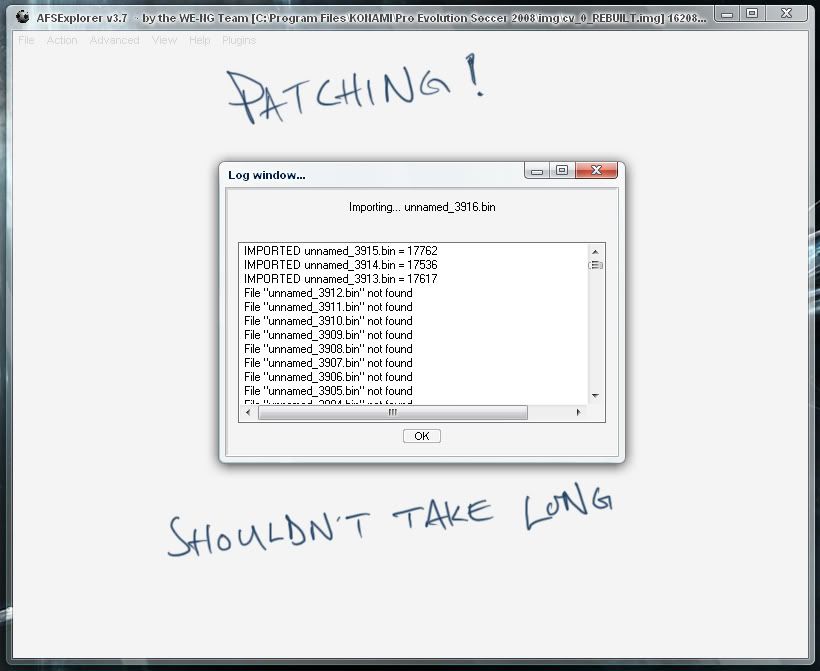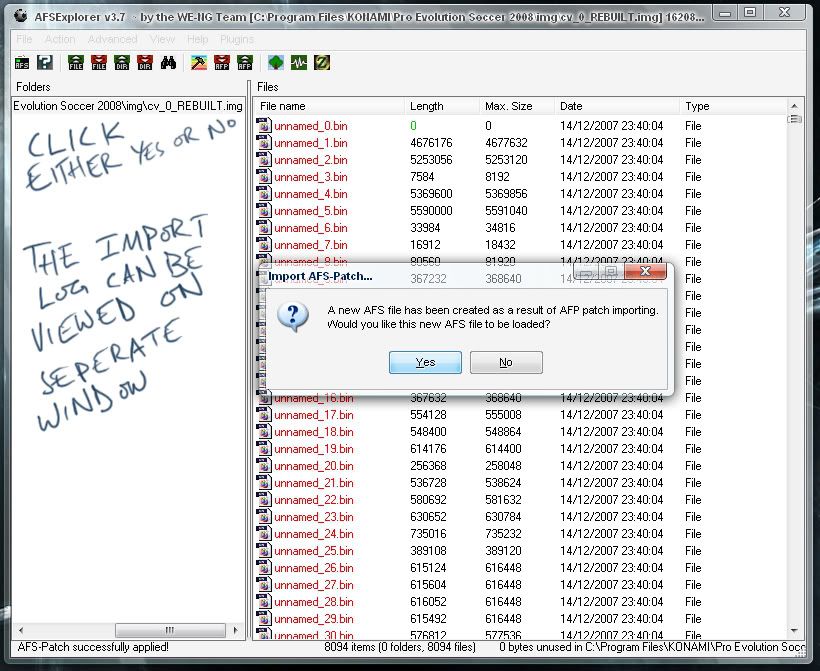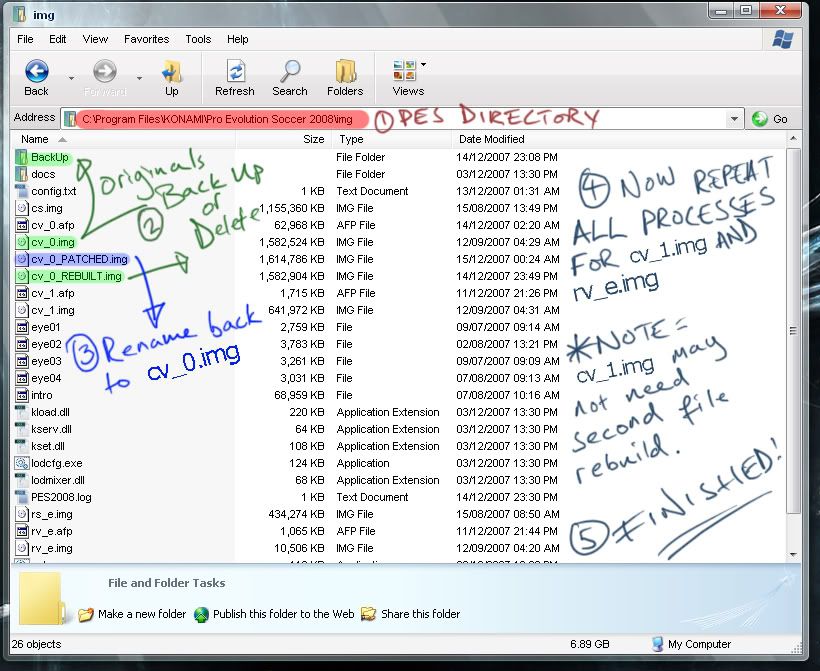 A FINAL STEP not included in the Pic-Turoials...
Open the downloaded patch folder, and from 'Option Files' Folder, drag the files '
PES2008_EDIT01.bin
' and '
PES2008_OPTION01.bin
' into '
My Documents\KONAMI\Pro Evolution Soccer 2008\save
', and you're done.
If you still can't install the patch from these instructions, then sorry i can't help you (other than similar problems experienced by NothingHalo), cause this is the best i would be able to explain it.
---------------------------------------------------------------------
**
"POSSIBLE" SOLUTIONS TO PATCH PROBLEMS
**
Vista 64-bit Users
For people experiencing problems for the Vista 64-bit systems, Mr Thomas has solved it by doing the following (many thanks to him for posting) - but please note that it's not guranteed success:
Hi guys

Thanks for all of the messages on here, my first reply because i have got it working and i was having the same problem as a lot of you on here.

I have Windows Vista 64 bit and everything downloaded fine but ingame all the kits were Chelsea White or Chelsea Red.

I have been pulling my hair out trying to work out what it is and i installed the patch from the Konami web site and it worked, i couldnt believe it.

You have to run the Patch as Administrator or it wont let u run it for some strange reason but its great.
This is only a solution to one of the many problems concerning the 64-bit systems. If this methid fails to work, you should seach or report your problem to the PC Troubleshooting Thread which can be found
HERE.
Another promising method by sajkan2007:
OK I see your going through what i've been through and i know how it feels.

Try this.

0) Back up your game saves.

1) Uninstall the game using the disk not the control panel. Insert the PES8 disk let it autorun then choose uninstall from the boot up menu.

2) After uninstall is complete - Go to the KONAMI folder under program files and delete it. In some cases the KONAMI folder may have been removed during the uninstall but double check anyway.

3) Click start button on task bar and go to run, then type regedit and click ok.

4) when regedit opens, Click on edit and then go to Find. A pop will apear type pro evolution soccer 2008 and click on - Find Next.

5) When the search has finnished (may take a while...) regedit will highlight your findings on the right side of the screen. Delete anything that is associated with Pro EVolution Soccer 2008.

WARNING! "make sure you DO NOT delete any files apart from those to do with PES2008"

6) Pressing the F3 button will take you to the next search to find anthing to do with PES2008, as the files are scattered around. Dont worry not much to delete.

7) Once your search is over regedit will alert you that there are no more files found for your search.

8) Now put your disk into the drive if not already in. Install the game but install it as administrator. You can only do this by browsing the disk from and not the autorun feature, as the autorun feature doesnt let you right click on the menu when it appears.

9) Go to the setup file when browsing disk and right click and choose "run as administrator"

10) Install the game and the official patch update. Again run that as administrator too.

11) Then install Deckz patch using AFS explorer, When you run AFS again run as administrator.

12) Apply the patch (refer to deckz patching instructions).

13) Go to C:\Program Files (x86)\KONAMI\Pro Evolution Soccer 2008

14) Right click on the PES2008 file and go to properties at bottom.

15) click on the compatibilty tab and tick the "run this program in compatibilty mode for" and select "Windows XP (service pack 2)".

16) on the same pop up go down to "Privilege Level" and tick "Run as Administrator".

17) Now cross your fingers and wish for the best try running the game....

The above is what I did and it worked a wonder.

I hope this works for you too.
A simple method by themurph:
Yo Deckz,

Cheers for the info, managed to get it sorted in a different way, which I believe will work for anyone else having Vista 64 issues.

Basically, when you rebuild and patch the files they go into a part of the img folder called 'compatibility files', for which there's a button on the header of the folder to access this area. So, these files get stored in this compatibility file area and dont actually effect the game.

All you have to do is cut them and paste them in the normal area, overwrite all the files that are already there, then follow your original instructions.

Hmm, have I made that sound clear enough? If not let me know and I'll do some pics or summat. It really could be the difference between playing a Master League and committing suicide, for us Vista 64-ers.
Auto-Load Problems
Make sure you have both the edit file (PES2008_EDIT01.bin) and option file (PES2008_OPTION01.bin) are in the "My Documents/KONAMI/Pro Evolution Soccer 2008/save" folder then launch both load settings from system settings, AND load data from within edit.

Then turn auto-save on, and do a final save just to make sure.

Also, use fresh EDIT and OPTION files just incase the previous ones were accidently overwritten.
and
Problem with PES 2008 PC NOT LOADING OPTION FILES.

my problem came back. its tempermental.

basically you install pes as admin, then if ANOTHER user plays pes, not admin. then ownership of the game transfers over. then when the game is run as admin it won't load the option file as its inside another users directory and programs arn't allowed to look there. (obviously)

in bbbb's case it this seems it. the only solution is to play the game as that other user, or manually load both the option file and the edit file within the game.

hope this helps.

i belive theres a pc patch 1.20 that fixes this, but it wouldnt install for me saying error thats it.

basically that is the problem, for best results install pes under one user only and only use the game as that user. i cleaned the lot and made a seperate user account called pes, and only use it for playing pes and patching pes thats it.

again hope it helps.
Audio Bars
As for the sound bars not showing, i think they use a different code to control say a console not a PC sound card as konami removed them so the game doesnt crash. just use windows mixer to control the sound.

and anyone wanting to use a PS3 Sixaxis with PES2008, then all you need is libusb filter but the older 0.1.10.1 version and the PS3 Sixaxis usb mode initiator program. then once the lib usb is installed you simply plug in the pad via USB and run the initiator and then press the playstation button and its good to go. the lights on the pad will flash constantly but it does work, also ps3 needs to be off if you have one.
Thanks to these guys who have helped with troubleshooting.
---------------------------------------------------------------------
Please note that although I may be updating this patch in the future, I would not be accepting most requests to include or remove any features within this patch unless it interests me due to the fact that I would be very busy after Christmas.
However i still welcome you to offer your input as there may be a chance i would take on a few changes.
If any problems are experienced, please report back to this thread.
Please enjoy,
Deckz.
---------------------------------------------------------------------
*Other Stuff*
**********
Master League Team Controller Settings
Want to play Master League with more than one player?, or want to be in control of the CPU Team?...
...then check
THIS
out.
A quick screenshot: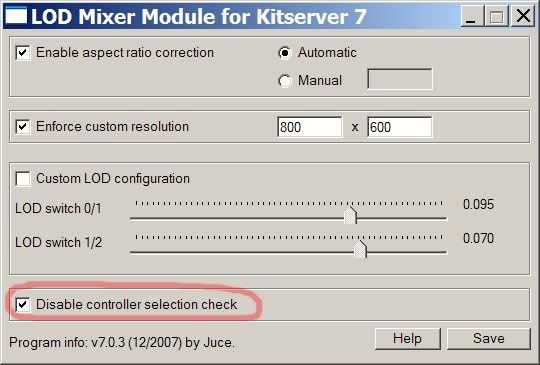 Simple instructions included.
**********
Deckz Ball Patch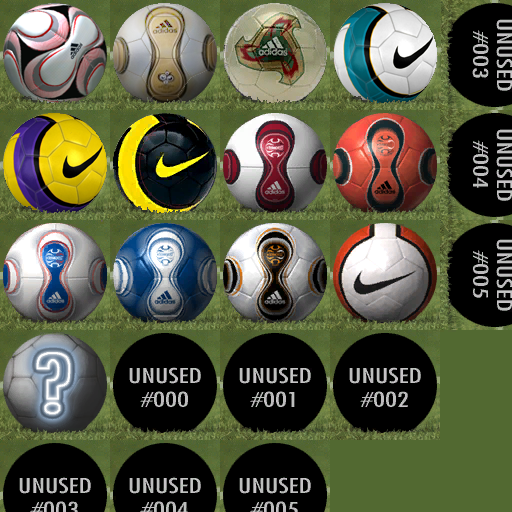 This is a selection of balls I collected for my own use. If you would like to install this for yourself, download the patch
HERE
(Instructions are included).